Dopo i quattro segnatempo Overseas presentati a Watches and Wonders Genève nei diametri da 34,5 e 35 mm, la collezione sporty-chic di Vacheron Constantin accoglie un nuovo modello del diametro di 35 mm realizzato interamente in oro rosa. Raffinato e prezioso, oltre che naturalmente elegante, vanta una personalità luminosa che accompagna l'artista ed esploratrice Zaria Forman, nuovo membro della cerchia di talenti "One of not Many" di Vacheron Constantin.
Il segnatempo Overseas presentato questa primavera indossava una livrea d'oro rosa, abbinata all'emblematico quadrante blu con finitura soleil. Oggi il nuovo modello a carica automatica invita al viaggio svelando una sfaccettatura inedita del suo temperamento. La sua firma stilistica? Un approccio armonioso ton sur ton che gioca con i riflessi caldi dell'oro rosa della cassa e del bracciale, abbinati allo splendore del quadrante laccato trasparente e impreziosito dalla finitura satinata soleil. Gli artigiani di Vacheron Constantin hanno dedicato grande impegno alla realizzazione della sfumatura esatta del quadrante, in perfetta armonia con la carrure e il bracciale. Questo look monocromatico, accentuato dalla brillantezza dei 90 diamanti finemente incastonati sulla lunetta esagonale che evoca la croce di Malta, delinea il profilo di un segnatempo sottile. Un orologio gioiello dalla silhouette snella e delicata: il compagno perfetto per ogni occasione.
Come il resto della collezione, il nuovo modello Overseas a carica automatica è dotato di bracciale e fibbia intercambiabili, che permettono di adattarne lo stile a ogni situazione. Oltre al bracciale in oro rosa – flessibile e morbido come una seconda pelle grazie alle maglie sottili che ricordano la croce di Malta – questo orologio elegante è dotato di due cinturini aggiuntivi. Grazie all'armonia dell'oro, è perfetto da indossare sia tutti i giorni che nelle occasioni speciali. Abbinato al cinturino in pelle di vitello bianca, è pronto a lanciarsi nelle avventure in città, mentre con il cinturino in caucciù bianco dà un tocco sportivo al polso. Prezioso, metropolitano o avventuroso, il segnatempo Overseas a carica automatica è a proprio agio in qualsiasi situazione.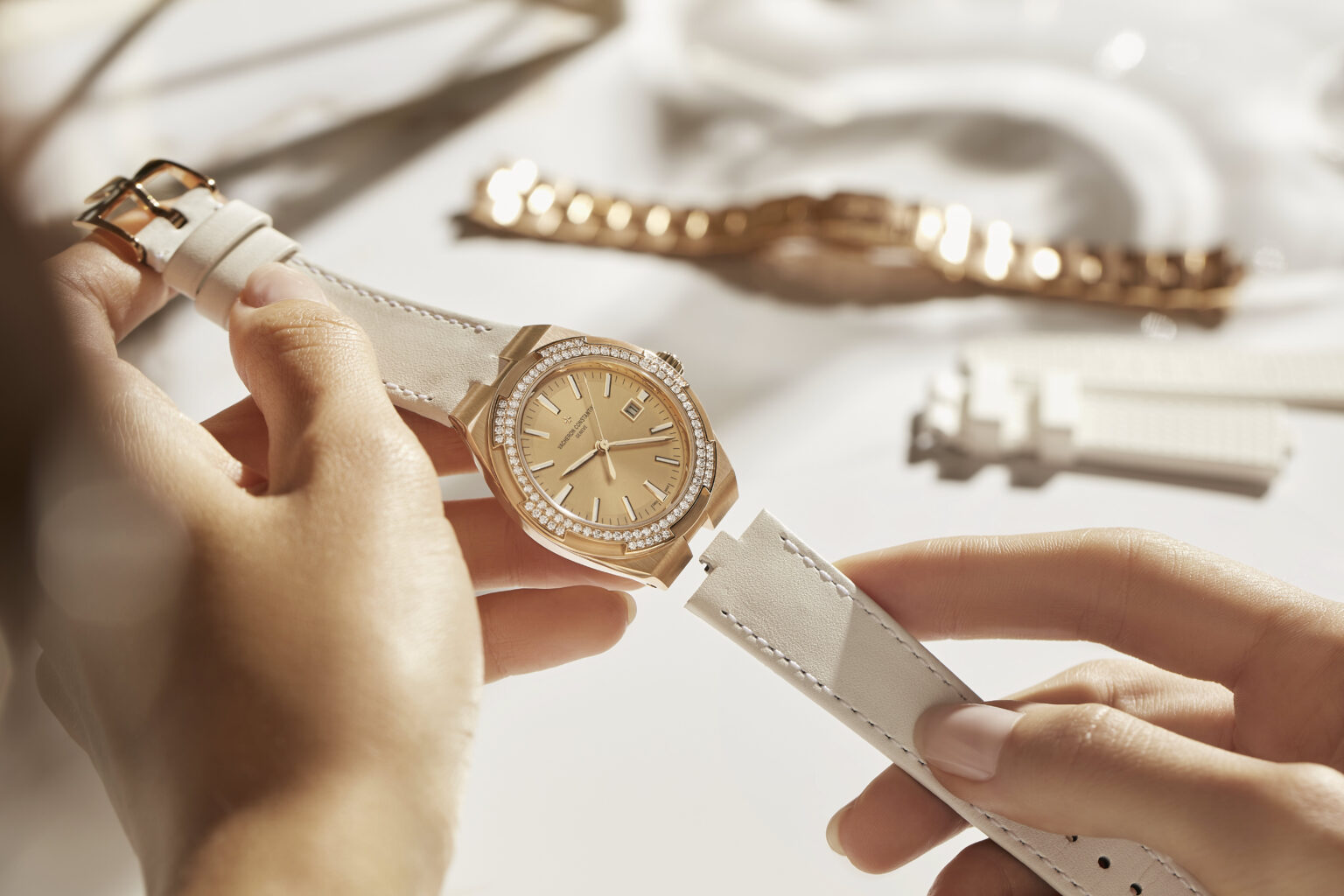 Per scandire le ore, i minuti e i secondi, il modello Overseas a carica automatica sceglie il Calibro 1088/1, un movimento estremamente affidabile, che comprende 144 componenti e batte alla frequenza di 4 Hz. Per essere ancora più preciso, il movimento è dotato di un meccanismo di arresto dei secondi che consente una regolazione accurata della funzione cronometrica. Il calibro ha una riserva di carica di 40 ore. I dettagli della decorazione, visibili attraverso il fondello scheletrato, sono stati realizzati con grande meticolosità. I ponti posteriori sono ornati dal motivo a Côtes de Genève, mentre il rotore, tipico della collezione, è scolpito in oro e impreziosito dalla rosa dei venti: uno spettacolo in perenne cambiamento che rimanda al viaggio e all'esplorazione.