Probabilmente nessun altro orologio della collezione Pilot's Watches di IWC Schaffhausen è riuscito a diventare un simile status symbol per i collezionisti come il Big Pilot's Watch Edition Markus Bühler del 2008, un modello ispirato a un pezzo unico creato da Markus Bühler per una competizione nell'ultimo anno della sua formazione da orologiaio presso IWC. La caratteristica visiva più straordinaria era la turbina di un aereo sui piccoli secondi. Quindici anni dopo, IWC presenta una nuova, esclusiva versione. Come la precedente, il Big Pilot's Watch 43 Tourbillon Markus Bühler (Ref. IW329901) presenta una piccola turbina nel quadrante, ma questa volta, l'emblematico motore è stato integrato in un tourbillon a minuti volante a ore 6.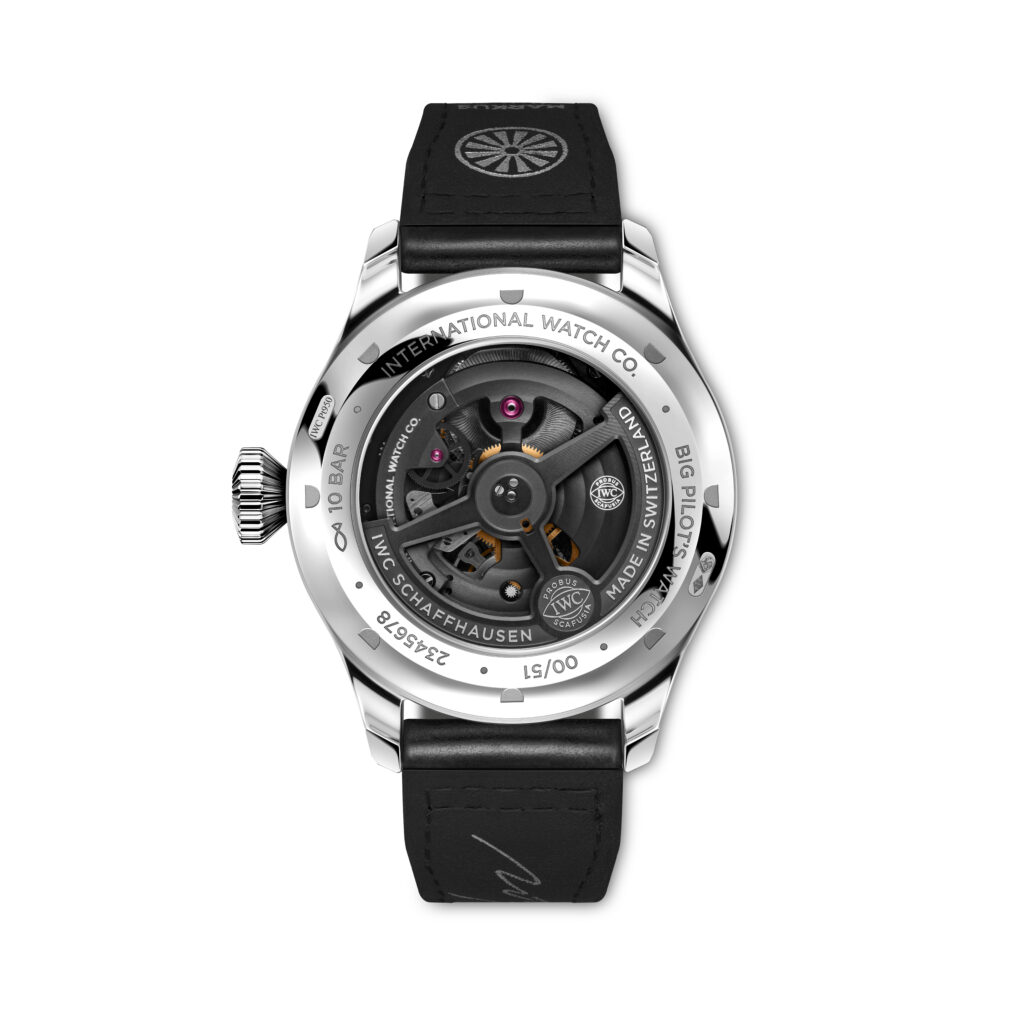 "Quanto ho creato il Big Pilot's Watch con turbina durante il mio periodo di formazione da orologiaio, non avrei mai immaginato che avrebbe portato allo sviluppo di una seconda edizione 15 anni dopo, né che allora sarei stato responsabile di tutte le procedure di assemblaggio all'interno di IWC. Per soddisfare le alte aspettative dei nostri collezionisti, abbiamo deciso di creare qualcosa di davvero esclusivo e integrare l'inconfondibile turbina in un tourbillon. Questa nuova edizione incarna alla perfezione lo spirito ingegneristico di IWC, mettendo in risalto l'elevato livello di artigianalità e minuzia per i dettagli", ha affermato Markus Bühler, Associate Director of Watch and Movement Assembly presso IWC Schaffhausen.
In un tourbillon, bilanciere e scappamento sono alloggiati all'interno di una piccola gabbia che ruota attorno al suo asse una volta al minuto. Maggiori sono massa e inerzia, maggiore è l'energia che serve per mantenere il meccanismo in movimento. Ridurre il peso, quindi, è l'obiettivo principale in ogni costruzione con tourbillon. Per questo motivo, la turbina è stata lavorata a partire una leggera lega di titanio. A causa della complessa geometria e delle dimensioni contenute, il processo di fresatura, da solo, ha richiesto diverse ore. Dopo la lavorazione, ciascuna delle dodici minuscole lame è stata lucidata a mano e rifinita con un livello straordinario di attenzione per i dettagli e perfezione estetica. Per evitare che la turbina aggiungesse peso al meccanismo, Bühler l'ha impiegata come parte superiore della gabbia del tourbillon, sostituendo così il regolatore. Di conseguenza, questa peculiarità affascinante del quadrante svolge anche una funzione tecnica: la molla a spirale si aggancia sul lato inferiore di una delle lame, e l'orologiaio può regolare l'attraversamento dello zero del bilanciere ruotando la turbina. L'innovativo tourbillon si compone di 56 parti e pesa soltanto 0,663 grammi. L'ancora e la ruota di scappamento sono state trattate con tecnologia Diamond Shell®, uno speciale rivestimento che riduce l'attrito e migliora il flusso di energia nel movimento.
La cassa da 43 mm e la corona sono realizzate in platino, uno dei metalli più rari, puri e preziosi impiegati nel mondo dell'orologeria e della gioielleria. La cassa è stata rifinita a mano con superfici lucide attorno alla lunetta e alle anse. Grazie a questa finitura, le sfumature bianche lucenti del platino vengono splendidamente esaltate, conferendo all'orologio un aspetto raffinato e ricercato. Il quadrante nero lucido e laccato è ornato da numeri bianchi e presenta indici applicati riempiti di Super-LumiNova®. Il cinturino in pelle Cordovan nera con firma Markus Bühler stampata sul lato interno completa questo orologio. Il Big Pilot's Watch 43 è animato dal calibro di manifattura IWC 82905. Il sistema di ricarica Pellaton vanta al suo interno componenti in ceramica e garantisce una riserva di carica di 80 ore nella molla motrice. Platine, ponti e rotore, visibile attraverso il fondello in vetro zaffiro, sono stati anneriti con rivestimento in PVD, poi incisi al laser e infine rodiati nelle zone incise.
La storia del Big Pilot's Watch Edition Markus Bühler e della sua riedizione è un ulteriore dimostrazione dell'importanza del programma di formazione professionale di IWC. La prima edizione del 2008 fu creata inizialmente per partecipare a una competizione organizzata dall'Institut de Formation à la Haute Horlogerie, in cui Markus Bühler vinse il primo premio. Attualmente, eventi e sfide per apprendisti sono occasioni di innovazione che fungono da pilastri fondamentali per la strategia di IWC, volta a favorire lo sviluppo di giovani talenti, creare nuove idee e soluzione ingegneristiche e orologiere all'avanguardia. Al termine della sua formazione da orologiaio, Bühler è rimasto fedele alla Manifattura IWC, ricoprendo, fra gli altri, il ruolo di Department Manager of Industrialization e Head of Movement Assembly & Industrialization. Dal 2020, si occupa di supervisionare tutti i vari processi di assemblaggio di IWC nel nuovo Manufakturzentrum in qualità di Associate Director of Watch & Movement Assembly.