Patek Philippe, batte un nuovo record. Uno dei suoi complicatissimi orologi è il pezzo più costoso mai messo all'asta online (si parla di 45 milioni di euro). È successo ieri all'asta organizzata da Christie's sia online, sia presso la sua sede di Hong Kong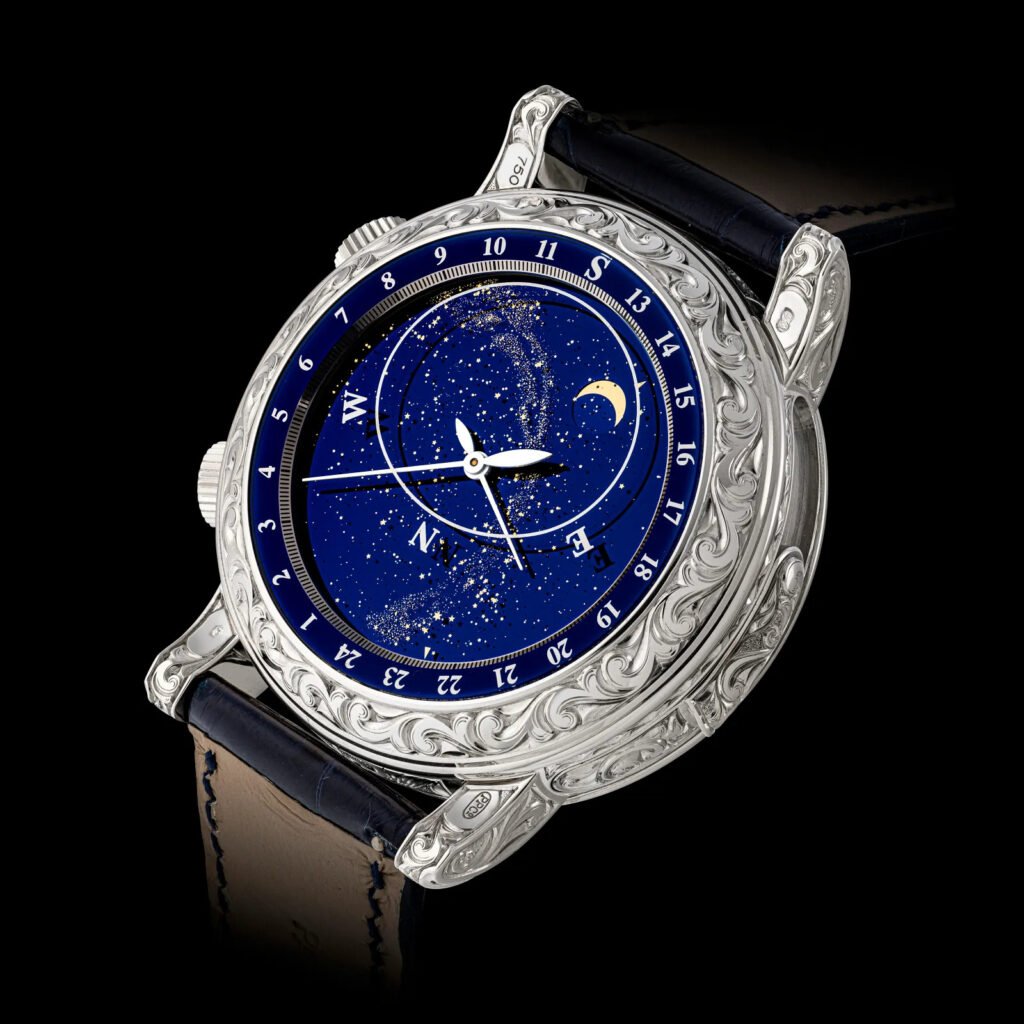 Lo Sky Moon Tourbillon, presentato 22 anni fa, è un orologio in oro bianco di 44 mm di diametro e 17,35 mm di spessore che ha stupito il mondo perché era il secondo modello da polso più complicato, dopo il Grandmaster Chime, di Patek Philippe.
Il modello barocco Barocco ha 12 complicazioni tra cui un calendario perpetuo con data retrograda, ripetizione minuti e tourbillon e 705 componenti. È decorato con volute e arabeschi incisi a mano e un quadrante smaltato cloisonné e champlevé.
Il modello double-face offre lancette incise che indicano l'ora e i minuti, un indicatore degli anni bisestili, un altro segna il mese e un altro il giorno della settimana. Mentre l'altra metà presenta una mappa celeste con il tempo siderale in modalità 24 ore.
Attualmente, Patek Philippe ha in catalogo uno Sky Moon Tourbillon in oro rosa e smalto marrone. Non si tratta di un'edizione limitata, ma di una produzione regolare realizzata su ordinazione.
"Gli eccezionali risultati ottenuti per Watches Online: Top of the Time dimostrano il potere della piattaforma di vendita online di Christie's di presentare lotti eccezionali e raggiungere i migliori prezzi, alla pari con le nostre vendite dal vivo", Alexandre Bigler, vicepresidente di Christie's e responsabile degli orologi per l'Asia Pacifico, ha dichiarato in una nota. "Questa vendita pone una base molto solida per le nostre aste primaverili a maggio presso l'Hong Kong Convention and Exhibition Centre, dove non vediamo l'ora di presentare orologi più eccezionali per i nostri stimati clienti e appassionati di orologi".