La Ferrari Roma Spider, ultima nata della Casa di Maranello, è stata presentata oggi nella cornice di un esclusivo evento tenutosi presso il palazzo El Badi di Marrakech. Con le sue prestazioni e la sua eleganza senza tempo, la vettura reinterpreta in chiave contemporanea lo stile italiano degli anni 50 e 60, caratterizzato da raffinatezza e piacere di vivere. La grande novità di questa spider – che riprende per proporzioni, volumi e tecnologia utilizzata il concept di successo V8 2+ già apprezzato sulla Ferrari Roma – risiede nel tetto rimovibile in tessuto, soluzione che vede il proprio ritorno nella gamma a motore anteriore del Cavallino Rampante a 54 anni dalla sua gloriosa apparizione sulla 365 GTS4.
La moderna interpretazione della capote morbida dona alla vettura un forte carattere grazie alle molteplici opportunità di personalizzazione fornite dai ricercati tessuti sartoriali e dalla possibilità di selezionare cuciture a contrasto. A livello prestazionale vanno segnalati i ridotti tempi di apertura del tetto (13,5 secondi) e la velocità massima di compimento dell'operazione (60 km/h), come pure i suoi ingombri ridotti che ne massimizzano la capacità del vano bagagli e, quindi, la versatilità. Un nuovo wind deflector mobile brevettato, integrato nello schienale della panchetta posteriore, si apre quando necessario al semplice tocco di un pulsante sul tunnel centrale, garantendo un elevato comfort di bordo senza aumentare le dimensioni della vettura.
Le eccellenti caratteristiche dinamiche della Ferrari Roma vengono confermate anche sulla Ferrari Roma Spider: la vettura vanta infatti un rapporto peso/potenza ai vertici della categoria grazie non solo al tetto in tessuto, ma anche al telaio interamente in alluminio e al motore V8 da 620 cv proveniente dalla famiglia in grado di aggiudicarsi per quattro anni consecutivi il premio "International Engine of the Year". Il cambio DCT a 8 rapporti, poi, garantisce ottimi livelli di comfort, efficienza meccanica e divertimento durante la cambiata sportiva.
La Ferrari Roma Spider risulta facile da portare al limite, dinamica e reattiva: si rivela quindi la compagna ideale per un weekend fuoriporta o viaggi ancor più lunghi accompagnati dalla colonna sonora del caratteristico sound del V8 Ferrari. I suoi due posti posteriori dotati di collegamento con il vano baule, il capiente bagagliaio e la connettività wireless di serie garantita da Android Auto® e Apple CarPlay® sono solo alcune delle soluzioni volte a enfatizzarne la versatilità, tra cui è possibile citare anche i sedili ergonomici, riscaldati e regolabili elettricamente a 18 vie, disponibili su richiesta con dispositivo neck warmer.
STILE
La Ferrari Roma Spider, disegnata dal Centro Stile Ferrari sotto la direzione di Flavio Manzoni, punta a trasferire il concetto di "Nuova Dolce Vita" fuori dagli spazi cittadini, in un contesto di eleganza e spensieratezza en plein air. La vettura è una spider 2+ dotata di raffinatissimo soft top in tessuto, progettato allo scopo di preservare ed esaltare le proporzioni della Ferrari Roma senza alterarne la silhouette elegante e fluida.
Per riprogettare il padiglione, dall'andamento piuttosto spiovente sul posteriore, è stato necessario ripensare le geometrie del lunotto. Nella Ferrari Roma Spider, infatti, tale componente è integrato nella struttura della capote per essere ricoverato insieme a essa all'interno del tonneau cover in configurazione a tetto aperto. Il tema di stile originario è stato interpretato come se una fascia in tinta carrozzeria attraversasse trasversalmente la zona alla base del lunotto, scomponendola in due sezioni. La parte inferiore diventa così uno spoiler attivo in fibra di carbonio, la cui geometria si raccorda virtualmente al lunotto e completa il disegno del tetto. Quando il tetto è ricoverato, lo spoiler attivo si ricollega invece otticamente alla geometria della cappelliera e ai poggiatesta.
Rispetto alla semplice tela utilizzata per molte vetture cabrio sul mercato, nel caso della capote della Ferrari Roma Spider è stato adottato un particolare tessuto dalla trama sartoriale che rende il tetto ancor più ricercato. A tale scopo, sono stati selezionati e sviluppati intrecci tessili con combinazioni di colori che mettono in luce le due anime della vettura: l'allestimento sartoriale bicolore è selezionabile a partire da una palette in quattro tonalità la cui trama esalta i caratteri di eleganza e raffinatezza propri di un abito tagliato su misura, mentre il tessuto tecnico sviluppato specificatamente per la Ferrari Roma Spider, la veste con un approccio sportivo seppur sofisticato. L'innovativo intreccio di quest'ultimo materiale, cangiante nelle tonalità del rosso, ne esalta tridimensionalità e tecnicità.
ESTERNI
Gli esterni della Ferrari Roma Spider sono caratterizzati da un approccio stilistico basato su pulizia e sintesi assoluta degli elementi. Le proporzioni e i volumi puri ed eleganti sono in linea con la tradizione delle Ferrari a motore centrale-anteriore; i designer del Centro Stile Ferrari ne hanno dato tuttavia un'interpretazione moderna, conferendo alla vettura uno stile sofisticato e contemporaneo.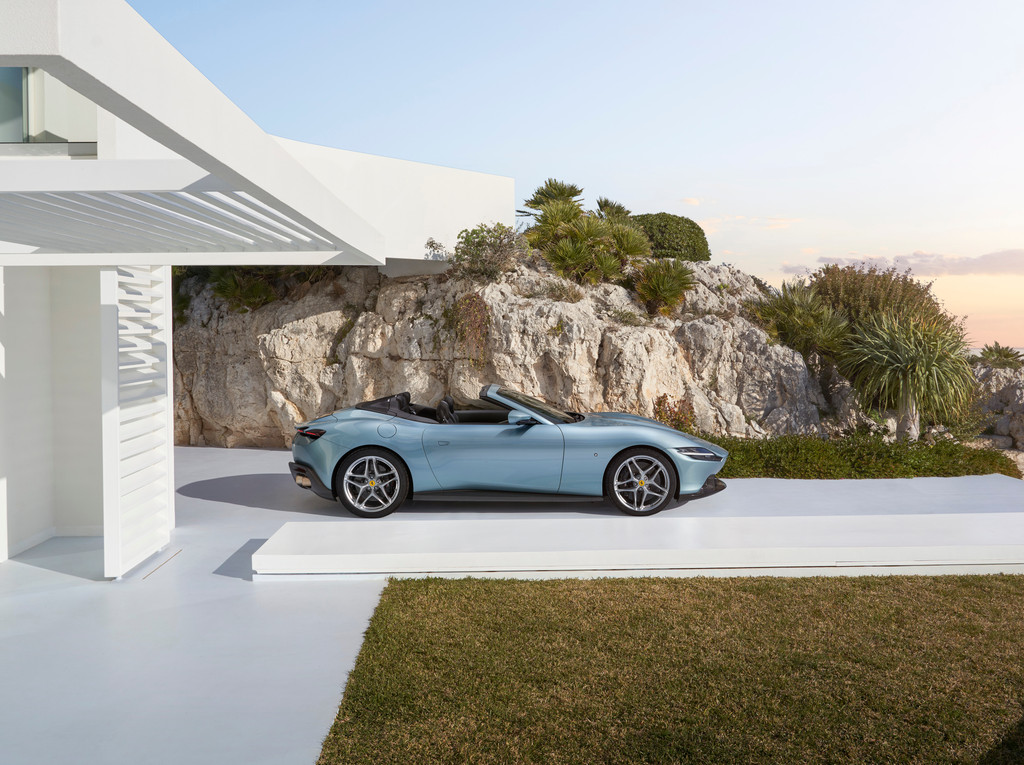 Il cofano anteriore enfatizza la silhouette essenziale della fiancata, dando slancio al corpo vettura e restituendone un'immagine dinamica. Il frontale, sobrio ed essenziale, è trattato come un monolite ricavato dal pieno, con un volume a sbalzo che genera un effetto a muso di squalo.
Il cofano e i sinuosi parafanghi si compenetrano senza soluzione di continuità, in armonia con i caratteristici stilemi Ferrari. Si è voluta preservare l'eleganza minimalista delle forme attraverso l'assenza di sfoghi o decorazioni, proponendo addirittura una configurazione di lancio sprovvista di scudetto laterale come si usava negli anni 50 per le stradali di Maranello.
Il raffreddamento motore è garantito da una superficie in tinta carrozzeria traforata localmente, solo dove strettamente necessario, dando vita a una reinterpretazione del concetto di calandra: tale elemento distintivo del frontale raggiunge la sua massima espressione nell'integrazione con il corpo vettura. In continuità formale con le estremità della calandra si sviluppano due proiettori lineari a LED che conferiscono un carattere peculiare all'anteriore, attraversati da una barra luminosa che suggerisce una struttura sottopelle, un elemento di tensione intorno alla vettura.
Il volume della cabina, di tipo fastback, si conclude con un nolder appena accennato sotto il quale si genera una moderna interpretazione dello specchio di poppa. Lo sbalzo posteriore lungo della Ferrari Roma Spider, caratteristica delle Ferrari degli anni 50 e 60, appare riproporzionato grazie a un volume del posteriore basso e compatto, ottenuto asciugando le volumetrie attorno agli ingombri del retrotreno. Il posteriore monolitico e avvolgente è caratterizzato dalla purezza e dalla modernità dello specchio di poppa. Lo sviluppo tecnologico ha reso possibile la riduzione delle dimensioni dei gruppi ottici, consentendo di disegnare fonti luminose minimaliste e iconiche; completa la figura del posteriore un diffusore aerodinamico dalle proporzioni contenute che integra derive, scarichi e funzioni ausiliarie.
INTERNI
I designer hanno applicato agli interni della Ferrari Roma Spider lo stesso approccio formale introdotto sulla Ferrari Roma. Sono state create due cellule dedicate a pilota e passeggero, evoluzione del concetto dual cockpit che ha un legame profondo con le Ferrari degli anni 70. Il suo aspetto più innovativo consiste nell'estenderne la filosofia all'intero abitacolo: da qui è nata la visione di due moduli che avvolgono pilota e passeggero, integrando anche le sedute posteriori.
L'abitacolo della vettura ha una struttura quasi simmetrica, a tutto vantaggio di una distribuzione più organica di spazi e funzioni, tanto da far sentire il passeggero coinvolto nella guida quasi alla stregua di un copilota. Le forme sono modellate plasticamente definendo un volume scultoreo in cui tutti gli elementi dell'abitacolo sono in continuità materica.
I due cockpit, ricavati per sottrazione di volumi ed enfatizzati da fettucce che ne delimitano i perimetri, si trovano immersi in un volume avvolgente e si estendono dalla plancia alle sedute posteriori, integrando porte, panchetta posteriore e tunnel. L'abitacolo non è concepito per sottoinsiemi separati, bensì definito da elementi che si sviluppano in continuità.
La tecnologia adottata deriva da quella della Ferrari Roma: il quadro strumenti full-digital, integrato ai volumi perimetrali, è protetto da una palpebra antiriflesso che si estende con continuità a partire dalla plancia. È inoltre disponibile su richiesta il display passeggero, per condividere le informazioni di guida con il pilota. Un display centrale di serie da 8,4″, incastonato tra i cockpit e parzialmente flottante tra plancia e tunnel, raccoglie le altre funzioni legate all'intrattenimento e i comandi del clima.
Il gruppo dei comandi del cambio si concentra su una piastra che ricorda il selettore del cambio Ferrari dall'iconico tema a cancelletto; nella Ferrari Roma Spider è alloggiato sulla parte centrale del tunnel, in posizione inclinata, per favorirne la migliore raggiungibilità da parte del pilota e la massima visibilità.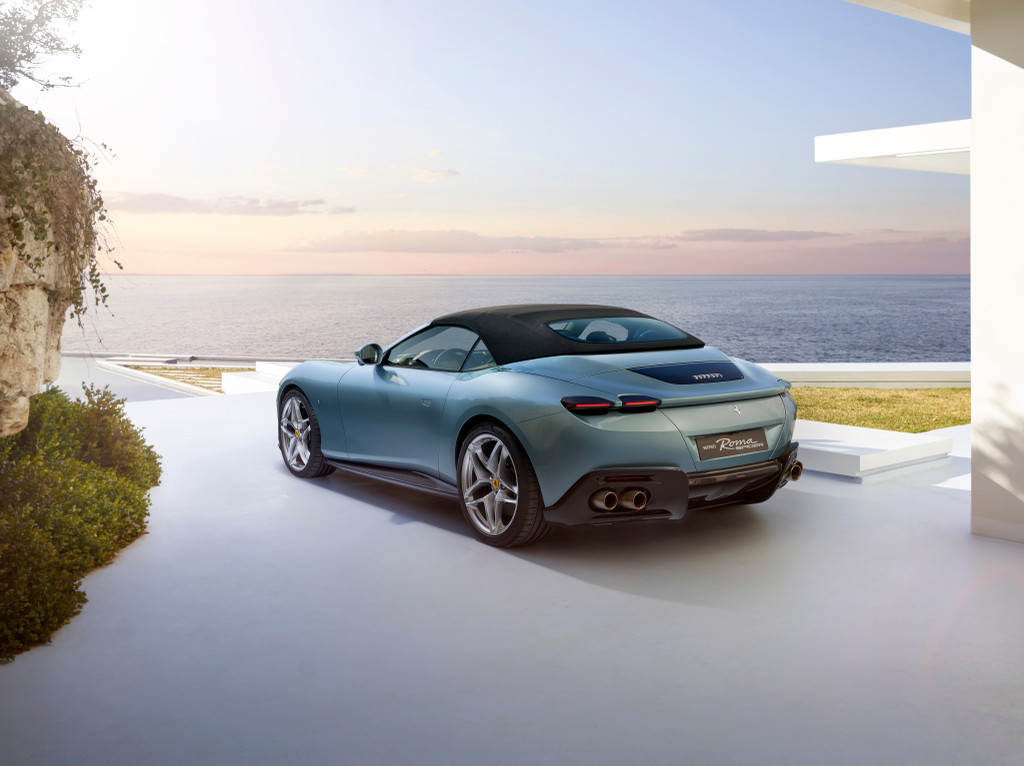 L'interfaccia uomo-macchina adottata dalla Ferrari Roma Spider rappresenta una versione riveduta e perfezionata di quella già vista sulla Ferrari Roma, in cui il volante è composto da comandi a sfioramento posizionati sulle razze. Su quella sinistra vi sono bassorilievi che rendono percepibile il pulsante su cui si sta agendo; sulla destra, invece, troviamo i controlli e in particolare il trackpad, in questa versione dotato di bassofondo che ne migliora la facilità d'uso. Tali riferimenti aiutano il guidatore a trovare la posizione dei comandi in modo più intuitivo, in conformità alla filosofia "occhi sulla strada, mani sul volante" che Ferrari ha adottato ormai da tempo. È stata infine introdotta la retroilluminazione di colore rosso sul pulsante di avviamento del motore per sottolineare l'emozione che il pilota proverà ogniqualvolta avvierà l'iconico V8 biturbo Ferrari.
MOTOPROPULSORE
Il motore della Ferrari Roma Spider fa parte della famiglia di V8 biturbo vincitrice del premio International Engine of the Year per quattro anni consecutivi e nominata nel 2018 Best engine of the last 20 years. Il propulsore da 3855 cm3 eroga 620 cv a 7500 giri/min., equivalenti a 161 cv/l, confermando così le eccezionali doti di potenza e fruibilità raggiunte dal motore della Ferrari Roma, in grado di erogare l'80% della coppia disponibile già a 1900 giri/min.
Sulla Ferrari Roma Spider è stata introdotta un'importante evoluzione della pompa olio che ha permesso di ridurre il time-to-pressure in caso di partenza a freddo del 70%, oltre a incrementare la portata ai medi regimi. Tale miglioria tecnologica è stata trasposta anche sulla Ferrari Roma, a testimonianza della continua ricerca della perfezione tecnica della Casa di Maranello.
La Ferrari Roma Spider, al pari delle altre vetture biturbo di gamma, gode di una risposta pressoché immediata del motore agli impulsi dell'acceleratore grazie all'adozione di un albero piatto, finalizzato all'ottenimento di maggiori compattezza e contenimento delle masse e al miglioramento della fluidodinamica; di turbine compatte, meno soggette alle forze inerziali; della tecnologia twin scroll che riduce l'interferenza delle onde di scarico fra i cilindri; e di un collettore di scarico dotato di condotti di egual misura per ridurre le perdite di carico.